WHAT DEFINES A FARMHOUSE HOME STYLE?
The farmhouse has continued to be on of the most popular home styles in America, particularly in reference to the old frontier and early sellers. Many elements of traditional farmhouses are still used today, as well as various modern variations. In this article, we will list some of the most common aspects that define the farmhouse style, as well as differences between classic/traditional farmhouse styles and modern farmhouse styles.
What is farmhouse style?
The farmhouse style has been around a long time and many aspects of the farmhouse style have remained constant throughout the years. Some of the most prominent characteristics include:
Neutral and natural colors. Natural colors and materials are common in farmhouse homes. For example, wood is very prominent in these homes, such as wood flooring or exposed wood beams. Neutral colors, such as whites, tans, and greys, are common. Accent colors also commonly allude to the earthy, antique and aged style of the home - such as greens or browns. Appliances will also commonly follow these colors. For example, sinks are commonly white and porclain, cabinets are commonly made of wood painted creame or beige, countertops could be made of white marble, and the exterior is often white siding or painted brick. Metals are often also used. Metal could be seen in stainless steel kitchen appliances or industrial light fixtures. Add more natural colors and textures by introducing wool or cotton accents and plants. Avoid unnatural textures, like plastic.
Design practicality. Farmhouses are commonly minimalist, so design derives from home elements that are commonly used. Let the practical aspects of your home take center stage, such as the furnature and storage options. Farmhouse appliances and accesories are utility-focused rather than decoration. Furnishings should be comfortable and used often. Some examples of decorative pieces could include mason jars, open or windowed cabinets, candles, repurposed wood signage, etc. Your home should feel cozy, not cluttered. Some of this practicality is developed during home construction. For example, built-in shelves are very common.
Mixed furnature. The home should like it has evolved or changed over time as you have lived with it. To achieve this look, you can mix vintage with new. Old wood that has been resalvaged is very popular. Imperfections such as stratches and knots give character and authenticity to the piece. Mix in these features with the practicality that can be found in new appliances and features.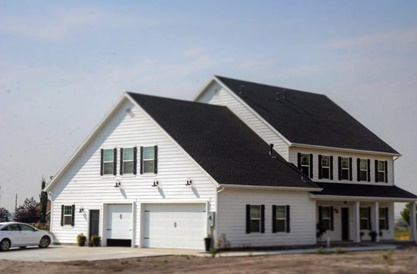 Modern vs classic farmhouse
Although much of what defines the farmhouse style has remained constant, trends always change and styles adjust. Resultingly, there are changes in classic farmhouse style with what is most common today: the modern farmhouse.
The modern farmhouse is strongly focused on minimalism and often takes design practicality to a new level. As a result, you will see less crafty decoration, but more heirloom hand-me-downs. When designing a modern farmhouse, it is important to consider whether or not each element provides a service in the home and truly adds to the home. If an element does not add value, it's best to leave it out.
Another new mentality associated with the modern farmhouse is low-key luxury. There is a current drift away from old-time country and a new focus on the mantra of "less is more". However, this also means that every element that you bring in should be unique and defined. You make your home completely unique as you add your own to style. This is what gives your home class and value.
The modern home has additional contemporary style included in the design. For example, you will see more smooth lines and glossy accents. Other elements that were not used in the past are used now. For example, butcher block countertops are very popular. On the other hand, floral and paisley fabric is slowly becoming less prolific in modern farmhouses.
Center Point Construction sample work
Center Point Construction has had many opportunities to build custom homes with farmhouse style architecture and interior design. Below we have inclded a series of different pictures and different homes that we have built. We have also included some interior design images from a Custom Home project we completed with Sita Montgomery, a wonderful interior design that we highly recommend. If you would like to see additional examples or see additional project information, look at our Residential portfolios, or give us a call at 801-845-1100.
Want to learn more?
As the farmhouse style continues to grow in popularity, there are more and more resources that can help you learn more and develop your own preferences within the farmhouse styles.
For example, the HGTV show Fixer Upper almost exclusively displays the farmhouse style. Below is a list of several additional blog posts that include additional helpful information:
Decor aid
Living Spaces
The Spruce
Freshome
We have also created a farmhouse-style pinterest board that you can explore and re-pin to your own home design boards. If you are considering building a new home, we would love to work with you to design your dream farmhouse-styled dream home!